Practical informations

Tourist information
Currency:Czech koruna (KČ; CZK); 1 € = 26 CZK
Money can be exchanged by exchange desks in the city centre or directly in the Campus Square shopping centre close to the workshop place. Cash machines are available in the Campus Square as well.
Arriving to Brno:
By Plane
Brno Airport (Airport Brno-Tuřany) is located approx. 13 km from the centre of the city and there are two low-cost companies operating direct flights in regular air traffic to and from Brno – Wizz Air and Ryanair, but also other flight companies, such as Lufthansa. There is a public transport from and to airport - a bus departs from the airport every 15 minutes. There is also a taxi service available for transportation.
You can find more information on the web-site:http://www.brno-airport.cz/en/.
By Train
Brno is well connected to the Czech and European railroad network. The Train Station - Brno hlavní nádraží - is located in the city centre (address: Nádražní 418/1, 602 00 Brno, coordinates (GPS): 49.190933, 16.613358). Brno is an important rail junction situated on the Balkan – Budapest- Prague – Berlin – Scandinavia rail route. All Eurocity trains stop in Brno. In the train station building there are luggage lockers (Mo-Su, 24/7), Post office, toilets (Mo-Su, 24/7), fast food, shops, currency exchange and ATMs. .
By Bus
Brno main bus station is located in the city centre, on the address: Zvonařka 411, coordinates (GPS): 49.185833, 16.616667. There are plenty of bus carriers who go to Brno, e.g. Student Agency. Brno has a very good connection with Prague, buses arrive at half an hour intervals.
All land public transport connections can be found at www.idos.cz (includes buses, trains as well as integrated transport systems of cities and towns).
By car
Brno is very well connected by road to other European countries. The city can be reached via the D1 motorway from Prague (210 km) or via the D2 motorway from Bratislava (137 km).
In Czech Republic, international drivers need to have their national driving license, vehicle registration certificate, and a valid international insurance policy.
Other means of transportation in Brno
Integrated Transport System (IDS) includes buses, trolleybuses and trams. There is a zone system and you can use one ticket for traveling inside and outside the city as long as you travel within the zones you paid for. Ticket prices begin from €0, 40 per 10 minutes and €0, 60 per 60 minutes. Tickets can be purchased in vending machines, news-stands or from a driver.
A five-day ticket for the two city zones is included in the workshop fee.
Important telephones
AMBULANCE: 155
POLICE: 158
FIRE BRIGADE: 150
SOS emergency call: 112
ROAD ASSIST: +420 731 001 009

Accomodation
Map of suggested accommodation enroute to EWCIM:
Eva Budinská - Úpatní 16, 634 00 BRNO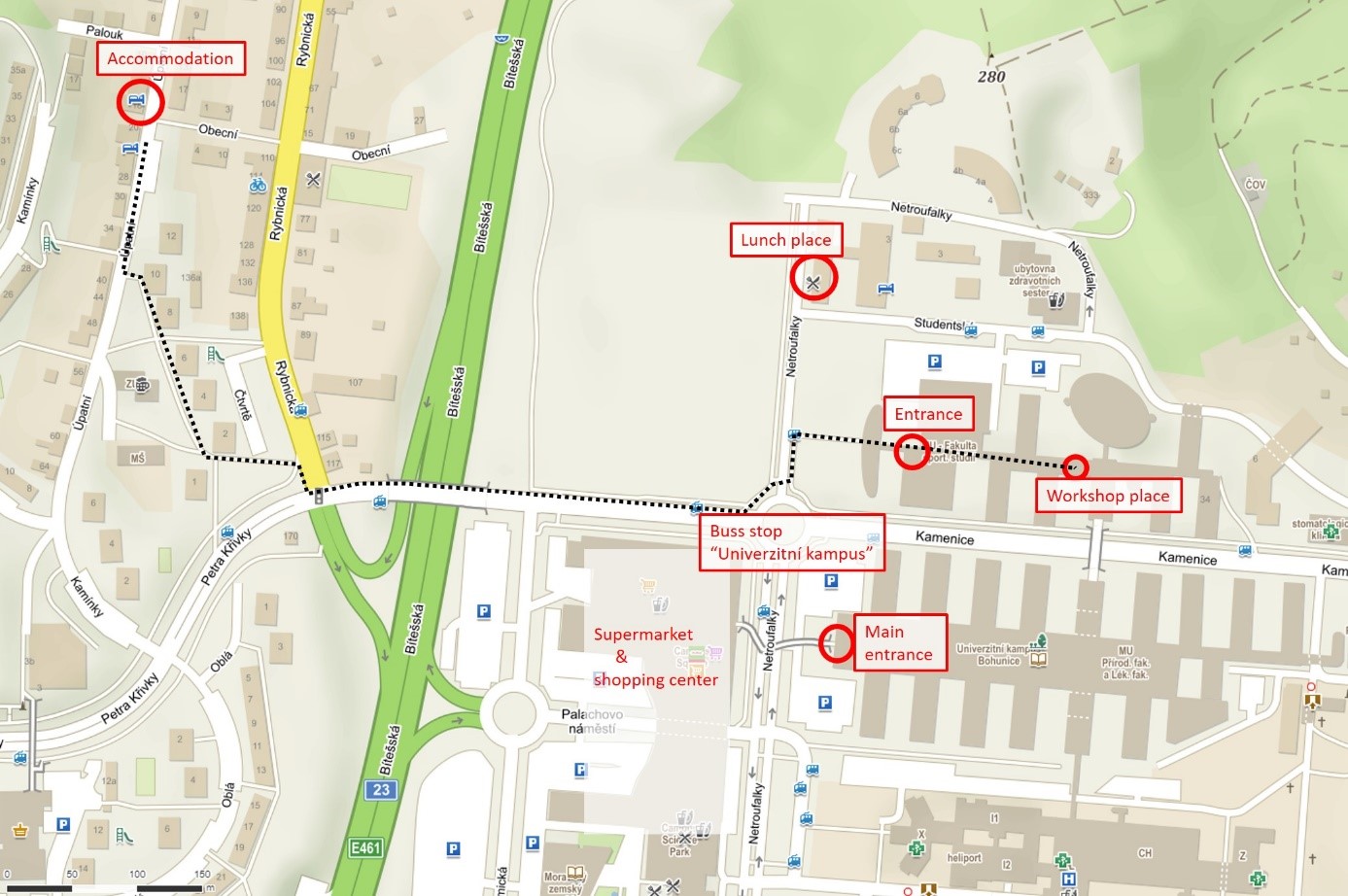 Other possibilities for accommodation are: