Travel Information
IMPORTANT: Certain nationalities need visas for a stay in Yugoslavia. Please check whether you need visas.
Where is Sokobanja?
Sokobanja is about 230 km from from Belgrade (Beograd), 60km Northeast of Nis.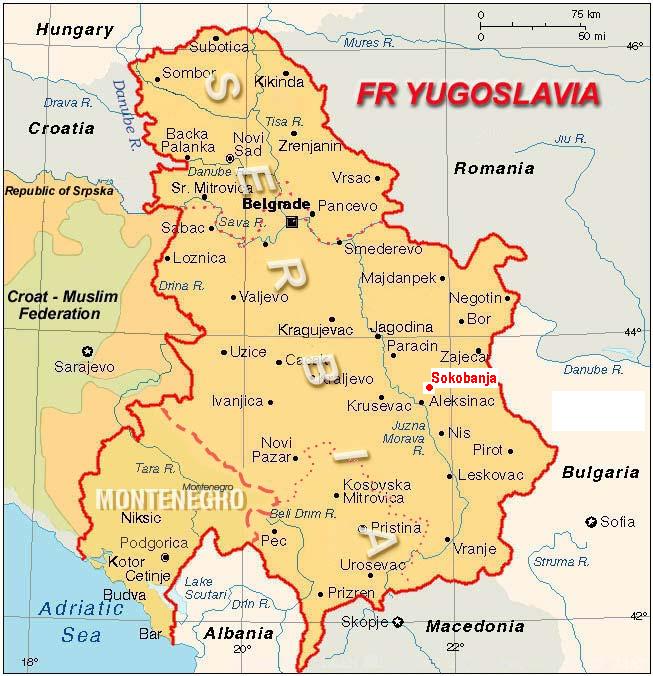 How to reach Sokobanja:
The school will organize a special bus from Belgrade to Sokobanja that will leave Belgrade on 13th at 15.00!!!
From Belgrade there are several ways to get to Sokobanja:
...by Bus (we recommend this way)
This is the most convenient way.There are a few buses that connect Belgrade bus station and Sokobanja bus station. Buses need about 180 minutes to get there and the fare is about 15 DM, one way. More frequently traffic is between Belgrade and Nis.
Bus timetables:
From Belgrade to Sokobanja: 08.00, 08.25, 13.45, between 16.30 and 17.00 (buses need about 210 minutes)
From Belgrade to Nis (via Aleksinac): 9.00, 12.00,14.30, 15.25,18.00, ...
From Belgrade to Nis (without stop in Aleksinac):
From Nis to Sokobanja (via Aleksinac): 06:10, 07:45, 09:00, 09:45, 11:50, 13:40, 14:10, 17:00, 18.00, 18.20, 20.20
Link to the Nisguide (in serbian)
... by Car:
From Belgrade: Via the Belgrade to Nis highway.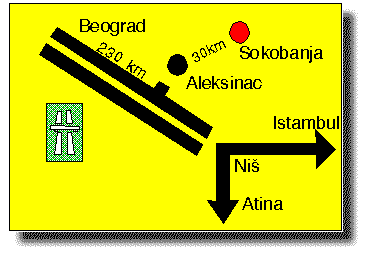 You shoud leave the higway when you see the sign ALEKSINAC, SOKOBANJA, ALEKSINACKI RUDNICI, turn to the right after toll gate. After approximately 2km take a left turn at the sign saying SOKOBANJA. Sokobanja is 30 km from this intersection. During the drive lake Bovan will be on your left. When you reach Sokobanja (point number 21 on the map), turn to the left to the bus station and hotel "Zdravljak".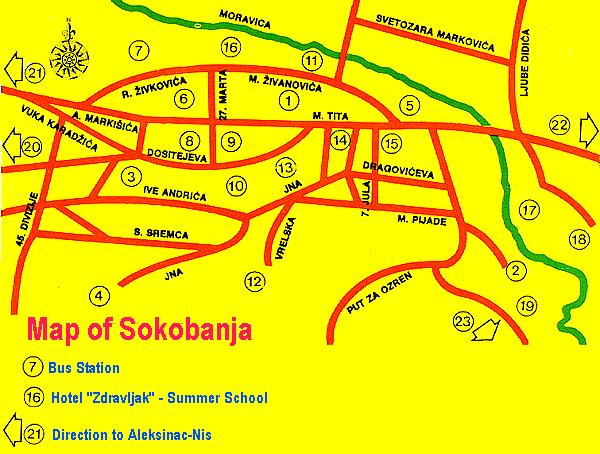 ... by Train
We suggest leave train in Nis, take taxi to the bus station and take bus to Sokobanja.
Timetable for the trains leave Belgrade railway station
...from the Airport to the Bus and Railway stations
Belgrade airport is connected by special buses with the Belgrade Railway Station (and the Bus Station which is around 200 m from it)
Other useful information
Currency exchange
The monetary unit is the Yugoslav dinar.
- bills: 5, 10, 20, 50, 100, 200 dinars.
- coins: 50 para (1 dinar is composed of 100 para), 1 dinar, 5 dinars.
- exchange rate is 1 DM=30 dinars.
Credit cards are still not widely used

Contact phones:
- Loc. Org. Comm. +381 18 833-195 (from 12-25th August)
- Hotel "Zdravljak" : 830-722 or 830-742
- Mobile phone: 063-8534-602 (Goran Djordjevic, Secretary of the School)